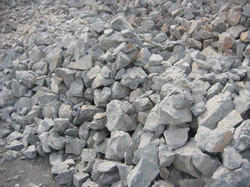 Also recognized as calcium acetylide, calcium carbide is a chemical compound. This chemical compound is primarily applied for industrial purposes. It is used for the production of calcium Cyanamid and acetylene. This chemical compound of calcium carbide is colorless in its pure form.

Though technical grade calcium carbide pieces are consists of a brown or grey tinge. The technical grade calcium carbide contains calcium carbide at a percentage of 80 to 85 per cent. Calcium carbide of this grade emits an undesirable odor, reminiscent of garlic, in the presence of moisture.

Different companies in India process calcium carbide finely employing the latest technology and offering in a secured packaging. Calcium Carbide Exporter from Chhattisgarh and other parts of the country offer a highly competitive rate to their clients according to different packaging sizes.

Application

• Mining and Drilling Tools: These instruments are used for a wide range of building applications. Calcium carbide is largely used by these construction tools. The robust and tough characteristics of calcium carbide make it preferable over steel. Irrespective of being a little expensive, this chemical compound is durable and prevents waste of production time.

• Mills: The chemical compound of calcium carbide also have its application at different production mills. Tungsten carbide is used for production processes at different mill inserts and end mills. Carbide is comparatively harder and is easily mixable, hence it is accurate for several milling applications for the production of materials with high grain.

• Industrial Alloys: Calcium carbide is used as an ingredient in the generation of specialized alloys and composites that contains various other metals, such as, copper, silver, iron and nickel. This compound is used to manufacture components that are needed by engineers and designers, for example, articles used in commercial industries and aerospace, radiation shielding materials, industrial and electronics machinery.

• Jewellery: Another quite new application of calcium carbide is jewellery making. This practice has become quite common in the last few years. Carbide is used for jewellery making because of its hardness and rigidity. This feature of calcium car ode makes it a suitable alloy while making earrings, pendants, bracelets, rings and several other items.

• Metallurgy:
Other than the above applications calcium carbide is used in several other ways. This chemical compound is used in the process of hardening steel and the production of chemicals of fertilizers. Also as mentioned before, calcium carbide generates calcium Cyanamid which is also a fertilizer that counters nitrogen. Calcium carbide also neutralizes wastes ejected from the factory, so a chemical factory use this compound before the wastes are dropped into the sea.
This chemical compound is also used in bamboo channels and toy cannons. Calcium carbide is also used as a food ripening agent.

Because of its versatile application, this chemical compound is exported throughout the world by calcium carbide exporter Chhattisgarh and some other states.

Conclusion
There are a number of companies that offers a wide range of premium quality calcium carbide to their customers. These companies claim to employ advanced technology for conducting a thorough quality check. The process used is all according to the internationally set quality standards. These companies target the local markets and the national markets along with the markets overseas. Calcium Carbide Exporter in Chhattisgarh also ensures prompt delivery of the orders within the given time frame.
This entry was posted on November, 12, 2021 at 12 : 37 pm and is filed under Calcium Carbide. You can follow any responses to this entry through the RSS 2.0 feed. You can leave a response from your own site.