Machines For Welding Metals For A Stronger Future For Your Firm
Posted by Admin on February, 16, 2021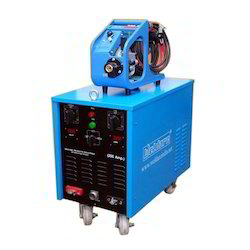 Welding machines are of key importance in the industrial fields and are of major importance to both professionals as well as aspiring welders. Welding machines offer a wide range of applications with several solutions and can provide some major help to welders with all their needs. It is very popular among aspiring welders who have started with the trade and are discovering the various sectors of it. Thus, with the help of Welding Machine Exporter From Chattisgarh, it becomes a lot easier to get the finest deals on top-notch welding machines very easily.

There is a wide range of products available for welding experts as well as welding enthusiasts. Some of these include stick welders, TIG welders, and MIG welders, which are of the common type. There are other higher-end varieties that are a lot more expensive than the common ones and these are usually run by fuel. Welding Machine Exporter Chattisgarh take care of all the needs of the welders and offer them the best options that do not just help them have better equipments, it also helps their firms prosper.

Thus, if you are in need of welding machines, here are some very important things that you shall follow before making a deal.

Identify the Nature of The Metal Being Used
In general, only carbon steel is used for welding purposes. This is because carbon steel can very easily handle the excess heat that anyone who is not an expert at welding may apply to the metal. This makes carbon steel very easily compatible with almost all kinds of welding machines. Stainless steel is also widely used for the storage of edible items as well as beverages as it is resistant to corrosion. On the other hand, aluminum requires a constant supply of heat uniformly throughout the welding procedure.

Set Up An Amperage Ideal For The Operation Of Your Machines
Setting up an ideal amperage for the operation of your welding machine is very crucial as it decides how much cost you will have to bear for running these machines. The cost incurred by a welding machine is dependent on how much electricity it consumes for the welding of metals. For instance, thicker metals will require a stick welding machine which would have greater power consumption. While on the other hand, welding thinner metals require lesser power consumption and the machine needs to be more sensitive.

Choose A Site Where You Want To Do The Welding
It is very important to choose an ideal site where you would want to do the welding. With the help of a 115V supply, you can simply plug-in a 115V AC machine into the electric frame, as it is the regular power supply that is received by most domestic as well as commercial facilities. These machines are capable of working in single-phase as well as a three-phase device.

Always Look Into The Specs Sheet
It is very important to go through the specs sheet as it can help you a good idea of whether the machine is a good one or not. With the help of a specs sheet, you can get a clear idea of how productive the machine can be. It is also very helpful in providing stats of how much welding it can do continuously in a span of 10 minutes.

With the help of Welding Machine Exporter Chattisgarh, you can receive the best machines that help in improving your production as well as provide you a much more sustainable future.
This entry was posted on February, 16, 2021 at 19 : 07 pm and is filed under Welding Machine. You can follow any responses to this entry through the RSS 2.0 feed. You can leave a response from your own site.