How Should You Choose A Welding Machine For Individual Purposes?
Posted by Admin on August, 21, 2021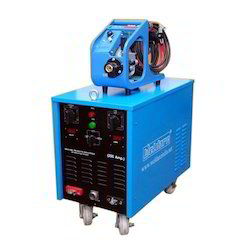 With the development of science and technology, the usefulness of electric equipment has increased drastically. Modern electronic processing and skilled workers have made the manufacturing task easier than before.

What is a Welding Machine?
A welding machine is an instrument that is used to fix two or more parts together by heat, pressure, and cooling process. Welding can be used in thermoplastic and metal, but one can use it on wood. The parts that are joined together with the help of a welding machine are known as the parent material. Pipe, filler, and wire are the different parent materials.

Welding Process for Various Purposes

Welding machine exporters from Chhattisgarh try to provide the welding machines for the following purposes.

1. Joining metals is an essential part of welding, where materials are melted in a high frame.

2. Plastic welding uses heat to join the plastic materials. It consists of three stages. First, the surface is prepared before applying heat and pressure, and finally, the material is allowed to cool.

3. Wood welding is performed by heat-generating formula. Linear friction movement creates a bond to fix the wood parts.

Advantages of Welding

The huge benefits of the welding process are as follows-

1. The cost of the welded joint is little

2. Welding is a leak-proof and tight process

3. The production time is minimum

4. It provides a good appearance

5. It is easy to maintain any parts

6. It is lighter in weight

Different Types of Welding

The different types of welding that welding machine exporter Chhattisgarh can offer are as follows-

1. Oxy-fuel welding- It uses fuel gases and oxygen to weld metals.
2. Shielded metal arc welding- It is a manual welding process that uses electrode covered

3. Gas tungsten arc welding- It is an arc welding process with non-consumable tungsten electrodesfor producing weld.

4. Gas metal arc welding- This process creates a connection between a consumable wire electrode and work-piece metal.

5. Electric resistance welding- It is a group welding process such as seam welding and spot welding.

Problems of Performing Welding

The significant problem of performing welding is as follows-

1. The vibrations are poor for the welding process

2. The quality of joining the parts depend on the skills of the operator

3. Inspection of welded elements is costly and require skilled technicians

4. Some materials create negative effects due to heat-generating

Process of Choosing the Welding Machine

Various welding processes are present in the market, but it is vital to choose the right welding method as per your requirement. Here are few factors you should consider before choosing any welding process.

1. Types of materials being welded

2. Welding position

3. The thickness of the materials

4. Welding power source

5. Working process of the workers

6. The time required for the welding process

Welding machine exporter always takes care of these details before supplying any machine to the consumers. Welding machine exporter in Chhattisgarh always takes care of their client's requirement before supplying any welding machine.
This entry was posted on August, 21, 2021 at 10 : 26 am and is filed under Welding Machine. You can follow any responses to this entry through the RSS 2.0 feed. You can leave a response from your own site.