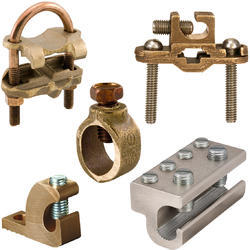 Ground Clamps is a thick metal strip used for creating an electrical link with a ground. In simple words, they are used to connect and make a grounding electrode conductor with the ground rod. A clamp works as a fastening tool that holds tightly together avoid separation or movement by any kind of pressure.
Some of the common ground clamps are:
• Acorn Clamp- this type of clamp is oval-shaped and has a bolt that is preferred to tighten it to the rod. It most preferred clamp for making ground connections and is officially permitted for burial applications. To make the connection the grounding conductor must be attached in the "V" of the clamp to the ground rod, on the opposite bolt direction of the clamp.
• Brass-toothed- it is two setscrews works to protect it to the ground rod. The best part about the brass-tooth is that it has middle point with a small hole to tighten the wire and set screw. They are best to make inside connections especially near water pipes which are grounded at the service panel.
What are the benefits of grounding clamps?
Grounding clamps help avoid mishap caused by electrostatic discharge
They avoid accidents that can happen by electrostatic discharge. Reliable and approved clamps marked by high forces and can penetrate through insulating layers like dirt, paint, and grease. This helps set up effective bonding and guarantees safe and secure grounding.
Grounding clamps are of no use if not used at the correct time.
If you are looking for ground clamps supplier in India many suppliers deal in all types of highly demanded ground clamps. The ground clamps they deal in are manufactured in a way to meet different industry standards and are of different types and different shapes and sizes to meet all types of customer's requirements and needs.
You also look for ground clamps exporter from Chhattisgarh suppliers and exporters online on search engines. But while purchasing ground champs online make sure that the site you are buying assures you they are
• Flexible,
• Accurate in dimensions,
• Resistant to corrosion, and
• Durable
How to find the ground clamps exporter from Chhattisgarh?
• Trusted name
• Reliable Ground clamps
• High sturdiness
• Resistant to corrosion
• Easy installation process
• Worldwide delivery
Different types of ground clamps
• U Bolt Style Copper Ground Clamps 1 Conductor – It's a conductor accommodate one ground electrode for bond to water pipe or fencing
• Grounding Clamps for Armour or Unarmoured Wires - Armoured Wire Grounding Clamps are Excellent for Grounding Application.
• Grounding Jumper Clamp for Splicing of Galvanized Steel and Aluminium or Copper wire
• I beam grounding clamps are isolated from beam - This I beam ground clamp keep grounding electrodes separated from I beam when grounding to I beam
• Aluminium Lay-In Connector for Copper and Aluminium Conductors
• Parallel Lay-In Pipe clamp or Rebar Ground Clamps - Copper Alloy Parallel Lay-In Copper Grounding Clamps are suitable for Direct Burial in Earth and Concrete
• Intersystem's Bonding Connectors with Lay-In Features- These Connectors accommodate all low voltage of servicing ground for bandings to the main grounding electrodes.
• Transformer Grounding Connectors